September 2015
DEAL OF THE MONTH
Borrower Request
The Property is a 207 unit full-service hotel. Hampton Inn Airport –San Diego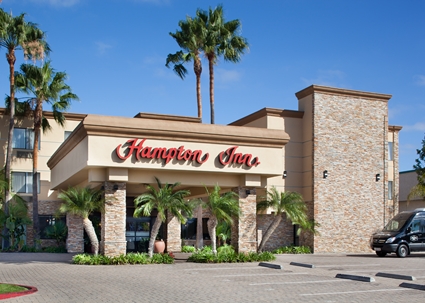 Principal Balance of the Loan: $25MM
Origination: May 2015
Maturity Date: May 2025
Closing Month: September 2015
Challenge
The borrower got a new $25MM loan on a hotel – the Hampton Inn San Diego – in May of 2015 from the Bancorp Bank.  At that time, Bancorp hired Wells Fargo to service the loan for them.  At the time the loan was originated, the borrower put up almost $6MM in reserves; which was to be used to renovate the hotel. It was understood at that time that the borrower could get reimbursed for his expenses associated with the renovation on a periodic basis.
After the borrower spent about $3MM of his own money for the renovation, he submitted a disbursement request to his servicer, Wells Fargo, so he could get reimbursed from his reserve account. Wells Fargo reviewed his loan documents upon receipt of that request and then notified the borrower that he would have to get the hotel Franchisor (Starwood) out to inspect the hotel and sign off on the borrower's work before they would reimburse any of the funds.  Unfortunately, Starwood does not inspect a hotel for renovations until after ALL the renovations are done.  The borrower and his loan broker worked with Wells Fargo attempting to get this resolved. What they discovered is two things:  (1) the loan documents definitely stated that Starwood's inspection was required before money was disbursed (even though that wasn't the original intent), and (2) Wells Fargo was no longer servicing the loan because the loan had just been securitized and was now a CMBS loan.  All the borrower now knew was that Midland was going to be his new servicer.  After trying to reach a human being at Midland, both the borrower and his loan broker realized that Midland didn't even have the loan file yet and was certainly not in a position to speak to them about this pending disbursement request.
The borrower had 100 construction workers at the hotel and all work was in jeopardy of being stopped if the borrower couldn't get his money out of the reserve account.
Solution
The borrower's loan broker called us to see if we could help.  We were engaged and immediately reached out to our senior contact at Midland to get the situation expedited.  Bill Stuckeman, our resident Hotel expert got involved in the situation, and worked with Midland to get a waiver of the Starwood inspection requirement.  He also worked with the borrower to create a new reimbursement request in Midland's standard format so they could quickly analyze the request.
Within a few weeks of our engagement, the borrower had his disbursement reimbursement and construction was able to continue at the hotel.
[youtube_sc url="https://www.youtube.com/watch?v=kMYDTYklJt8&list=PL73255E10A56CF82E" color="white" theme="light" modestbranding="1″ autohide="1″ controls="0″ autoplay="0″]